Bringing Them Home
Whether you get your dog from a shelter, or a breeder, whether you get a dog or a puppy. You are always going to need to prepare your home for the new arrival and plan a day or two to get the new family member settled in. I am going to go over a couple things to prepare your home for a new dog, and also how to plan the day of the arrival. I will also be going over items that are needed for your new family member.
Even before you bring the new dog home, you should sit down with your family and go over the rules and expectations with the new dog. You should go through every room in the home and have the kids get down on their hands and knees to seek out anything the new dog might find interesting. Pick up anything they can swallow, and pick up anything you do not want chewed on. Make sure access to all off limit areas (include inside lower cabinets and down basement stairs) are blocked off. This is going to ensure the dog can't get into too much trouble if you accidentally loose sight of them for a moment.
After you clean up, you should pick out a spot in the home that will be the dogs area. This should include a place for his crate or bed, food and water dish, and a basket of or just a couple of his toys so he knows where they are. The crate should really be in an area that is quiet, never in the kitchen or busiest room in the house. You don't always have to have the food and water dish next to the crate, you can put the food and water dishes in the kitchen if you want. Make sure you set it all up, and make it nice and comfy for your pets arrival.
Now that your house is clean and safe, and the dog has a place of his own, it is time to go shopping! It is important that you have these essential items before you pick up the dog. Anything else can always be purchased at a later time.
Food

Now I recommend any high quality low grain dry food. Corn should not be on the ingredients list at all. Corn is just a filler and actually makes your dog need to eliminate more and that is just more work for you. Good food is the #1 priority, it keeps your dogs coat healthy (healthy coat, less shedding) and keeps your dog all around healthy.
The brands I recommend are Wellness, Blue Buffalo, or Nutro Naturals, and you feed twice a day, morning and night. The amount is on the side of the bag.
When switching the dog from the food the shelter or the breeder had them on to what you are going to feed them, it is best to do it slowly to avoid upset stomachs and diarrhea. Start day 1 and 2 with 90/10 (old/new) then days 3 and 4 75/25, days 5 and 6 50/50, days 7 and 8 25/75 and days 9 and 10 10/90. Then you should have no problem sticking with new food.
If getting a shelter dog, they might be too nervous to eat. If they don't eat the first meal, that is okay. If they don't seem hungry by the second meal, I would try mixing a little wet food, or gravy to entice them to eat. Sometime microwaving for 15 seconds brings out the nummy smells.

Leash and Collar

Your collar should fit the dog well and not be too thin around the neck.
I recommend a solid one piece leash. The retractable leashes enable bad leash behavior.

Food and water dishes

I recommend glass or porcelain. Metal or plastic bowls can cause irritation on dogs nose
The bigger the dog the bigger the bowl, and same ratio for smaller dogs.
The large watering containers that have a reservoir on top are nice and you don't have to fill every day. You just have to scrub it every time you add water too it.

Crate or bedding

I usually recommend crate training a dog or puppy. It makes for very easy potty training and the crate is a safe place for your puppy to be when you cannot watch him or when he sleeps.
The crate should be just big enough for him to stand up in and turn around.
You should have a nice set of blankets, or a pad that makes it nice and cozy.
If you are getting a puppy that is going to grow, you can get a bigger crate and block off half of it with cardboard or plastic.

Toys

You should have a couple toys at home before you bring the dog home. This will help teach the concept of – this is yours to chew on, and this is NOT yours to chew on.
Get a variety of at least 4 things. Rubber, Rope, Plush, and squeaky
I DO NOT recommend rawhide of any kind. This is way to easily lodged in the dogs throat and can cause choking issues or damage the throat. There are plenty of acceptable alternatives to rawhides.
If you want to get the bone for the dog to chew on, get the one with the rope through the middle. This will help from the dog getting its jaw stuck on the inside of the bone.
Soft squeaky things and balls are always a good idea, and tug toys are always fun

Vet Appointment!

It is ALWAYS important to have your vet appointment scheduled before you pick up the dog.
Your first day with the dog should start as early as possible. Try and pick the dog up after breakfast but not very late at night. If you can, plan to do it on a Saturday or have a couple days off afterwards. Not necessarily the kids need to be off, it isn't a bad thing that the house be a little quieter during the day the first day or two. Make sure to bring the leash, the collar, and one soft squeaky toy. After you finish the paperwork and details, it is time to take him home. You should go directly home if possible. The fewer stops the better (besides pee breaks). If you are bringing home a puppy, keep them wrapped tightly in your arms. It will make them more comfortable and don't be worried if they get a little car sick. If you are bringing home a dog, just make sure they are secure in the back seat, they should not ride up front, they and you are much safer when they ride in the back.
The first thing you do when you get home is take the dog for a walk around the home. Let them smell all your bushes and every corner of the house. If they go to the bathroom outside, praise them greatly and be very excited. After you play outside for a minute bring them in the home. At this point everyone should be calm and speak in a slow calm manner. The dog will walk around the house smelling at everything. If you sense they are going to pee (circling, smelling while spinning, lifting a leg) take them right back outside for a few more minutes. After you feel the dog has got a good sniff of a majority of the home, one more stop outside and then you get to confine them to one room. This is where you let the dog do a little more detail sniffing and getting to know your family better. Play with the new toys, correct any bad chewing and enjoy time with him. Puppies tire easy so after an hour I would say put them in the crate for a nap.
So, that should be a great first day with your dog. You should quickly get to learn their quirks and personalities. Always give a couple days for the dog to get a good concept of the daily schedule. It can take dogs a couple of weeks to start bonding to a new family, whether they are puppies that just left their mom or shelters dogs that are just getting used to their better life. Give them time, and space, and you will have welcomed home a great dog to your family.
---
About Me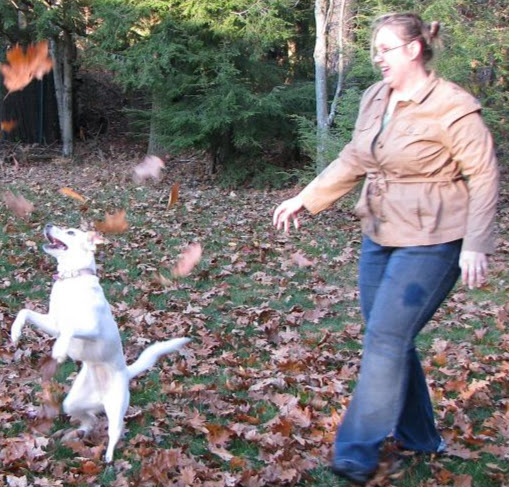 My name is Ashley Lang. I am a passionate, professional, and dedicated dog trainer.
---
Links

---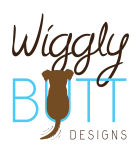 Great T-Shirts that not only celebrate the love of a rescue dog, but also benefit it! 50% of all sales goes to help local shelters!